IoT.kyoto Announces the Launch of the Cloud-Native, Sensing-Control-Capable IoT Gateway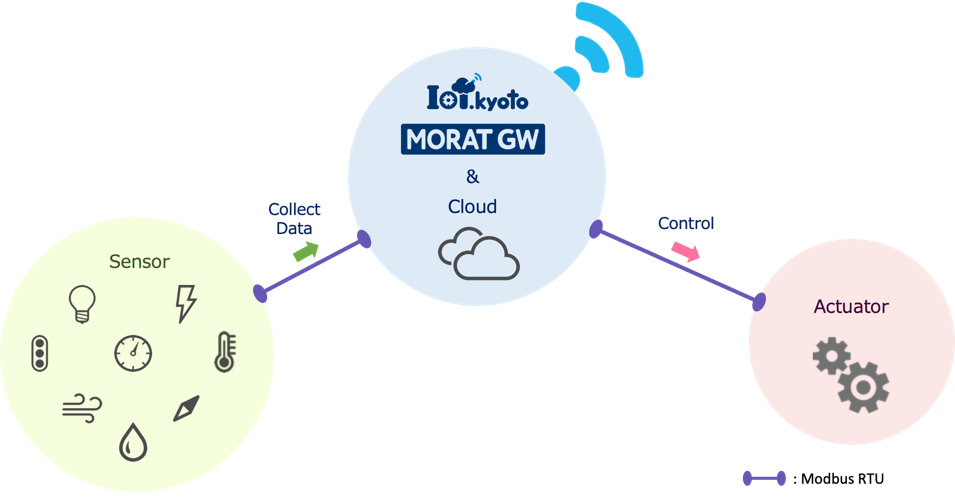 Kyoto, Japan – 26 November 2019 – KYOSO Co., Ltd. is excited to announce the launch of MORAT GW under our brand IoT.kyoto;
MORAT GW
, with its name derived from "
MO
dbus to
R
est
A
pi
T
ransfer
G
ate
W
ay", is an IoT gateway which enables sensing control of commercially available automation system from the cloud.
In recent years, IoT is of growing importance as an essential part of core technologies such as smart manufacturing and self-driving cars, with its functions based on sensing and controlling/actuating. IoT is composed of things, network and the cloud, as it stands for "Internet of Things", each combined "in harmony" ideally. Nevertheless, compared to the cloud that is low-cost, flexible and scalable to build, device side is rather limited; you might even need to purchase a whole set of customized devices to fulfill "requirements" that achieve IoT.

MORAT GW, developed based on a series of IoT gateway on the market ("OpenBlocks IoT" by Plat'Home Co., Ltd.), uses the simple, stable and common industrial protocol of Modbus RTU for serial connection to sensors and actuators, enabling collection of data and control of actuators via two daisy-chained wires of RS-485 interface. In terms of technologies for sensing control, MORAT GW uses followings under license: "PicoGW", a Node.js-based open source software being developed by Sony Computer Science Laboratories, Inc. (hereinafter referred to as "Sony CSL") and Daiwa House Industry Co., Ltd. (hereinafter referred to as "Daiwa House Industry"), "PicoGW modbus plugin" which is originally for building equipment control, and "NanoGW(*) official macro plugin" to accumulate measured data and program control systems. Collaborating on research and development on smart home, Sony CSL and Daiwa House Industry are experts in this field; their innovations contribute to building more reliable and affordable IoT systems including MORAT GW.
Another important feature of MORAT GW is that data accumulation, analysis and control of actuators are roles of the cloud; this facilitates application of setting changes, extension of functionality and additional devices even after installation of the system. As for cloud connectivity, "SORACOM Air SIM" inside MORAT GW works at anywhere mobile networks cover, realizing the closed network and secure remote access to MORAT GW through IoT-optimized services of SORACOM.
For the visualization of sensor data, we primarily offer "IoT.kyoto VIS" for free; it is a simple web app with fundamental tools such as alerting and data downloading (CSV). We can also create a custom dashboard specializing in certain purposes, for instance: power monitoring/energy management system(EMS).
With MORAT GW, you can adopt demand control system whereby power usage in facilities installed high voltage receiving equipment are monitored and controlled automatically. Here we show you an architecture of demonstrational EMS on MORAT GW: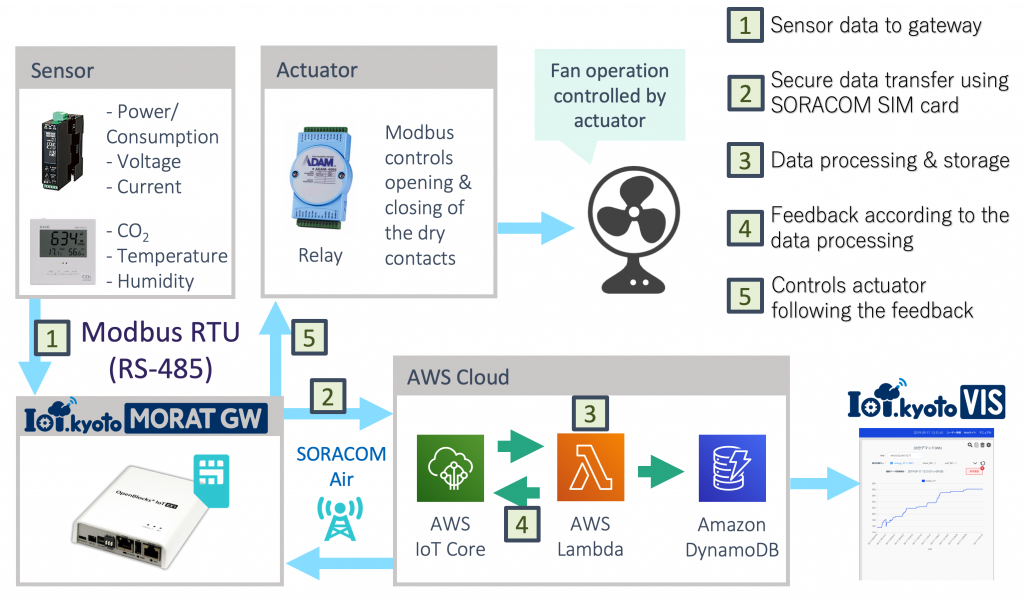 The video below demonstrates the concept of MORAT GW; power consumption of the hair dryer is being monitored using the energy monitor, and the relay controls power supply to the blue fan. In addition, the system has a following program on cloud: "if the usage of electricity above threshold, control the relay to supply power to the fan" which is why the fan starts turning as the hair dryer is turned on. You can also see from the webpage of IoT.kyoto VIS in the video that the data of power consumption on a graph keeps going up while the hair dryer is on. Devices such as energy monitors and relays can be daisy-chained up to several dozen. MORAT GW, compared to the existing demand management system, is very low-cost and highly efficient with satisfactory functions and more.
The POC of the actual EMS system with MORAT GW is currently running on several factories; the photos below are from one of them, a textile factory of Toa Boshoku Co., Ltd.(Toabo Corporation) in Miyazaki, Japan.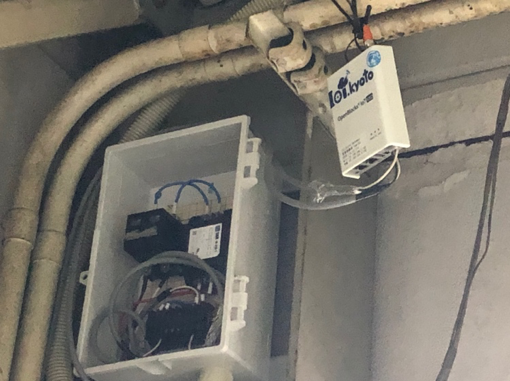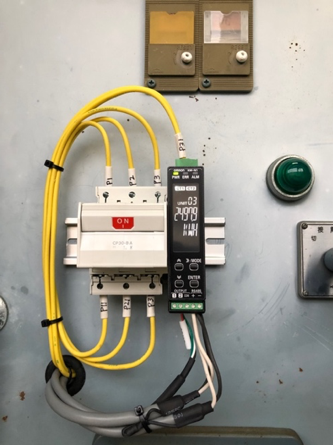 Collaborating with KDDI Corporation as a technical partner, we are marketing our IoT.kyoto solutions including MORAT GW overseas as well, jointly with KDDI Singapore and KDDI Malaysia respectively. We are preparing supply system for factories and office buildings worldwide.
Sponsorship and exhibition at Cloud Expo Asia Singapore 2019
KDDI Malaysia's participation in "SMART MANUFACTURING Adoption in Industries"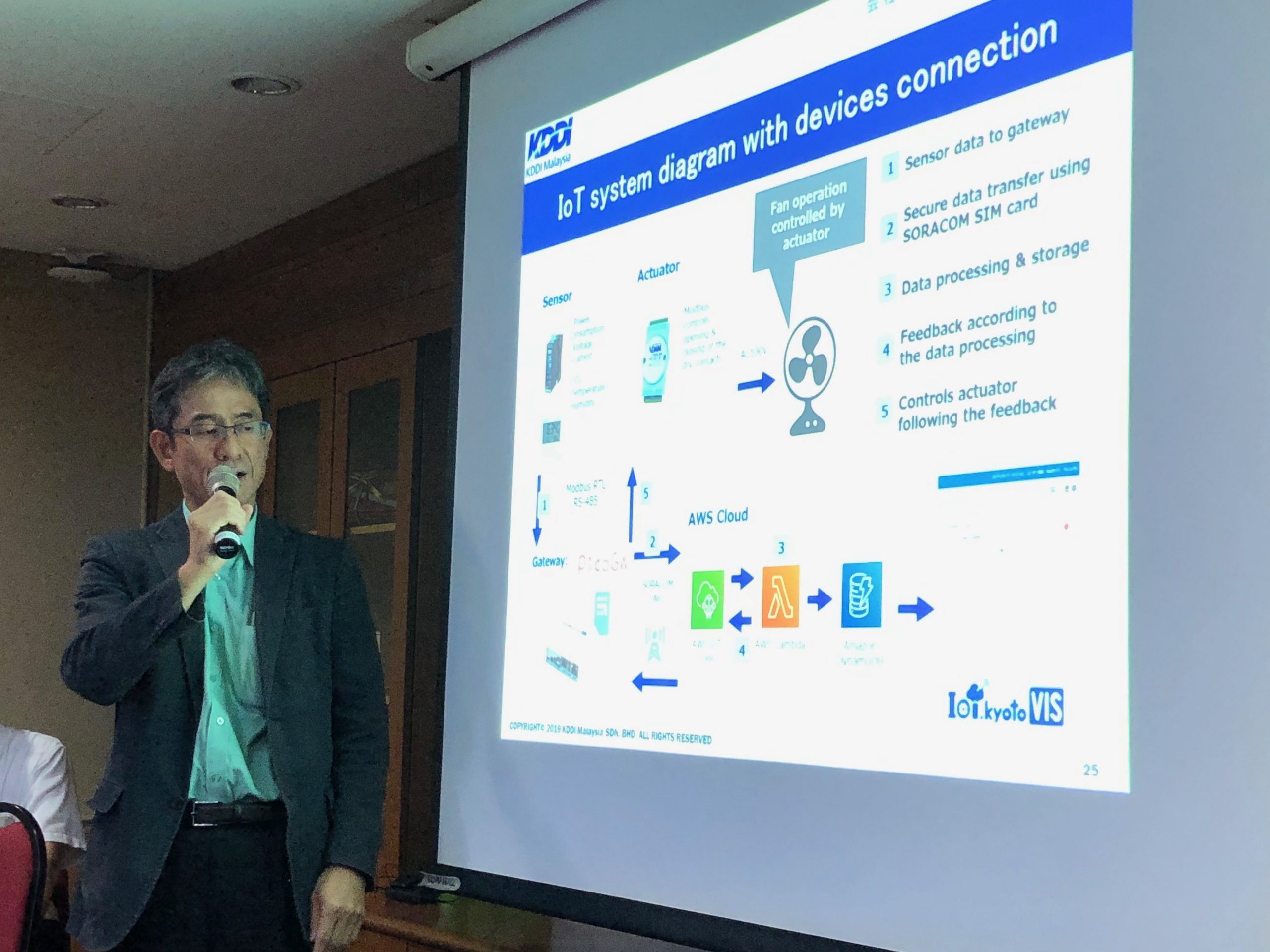 If you are a customer in and around Asia Pacific region, please contact KDDI Singapore at
https://sg.kddi.com/
or KDDI Malaysia at
https://my.kddi.com/
.
(*)"NanoGW" is a registered trademark of Sony Corporation.